Paying it forward
posted on: March 9th, 2019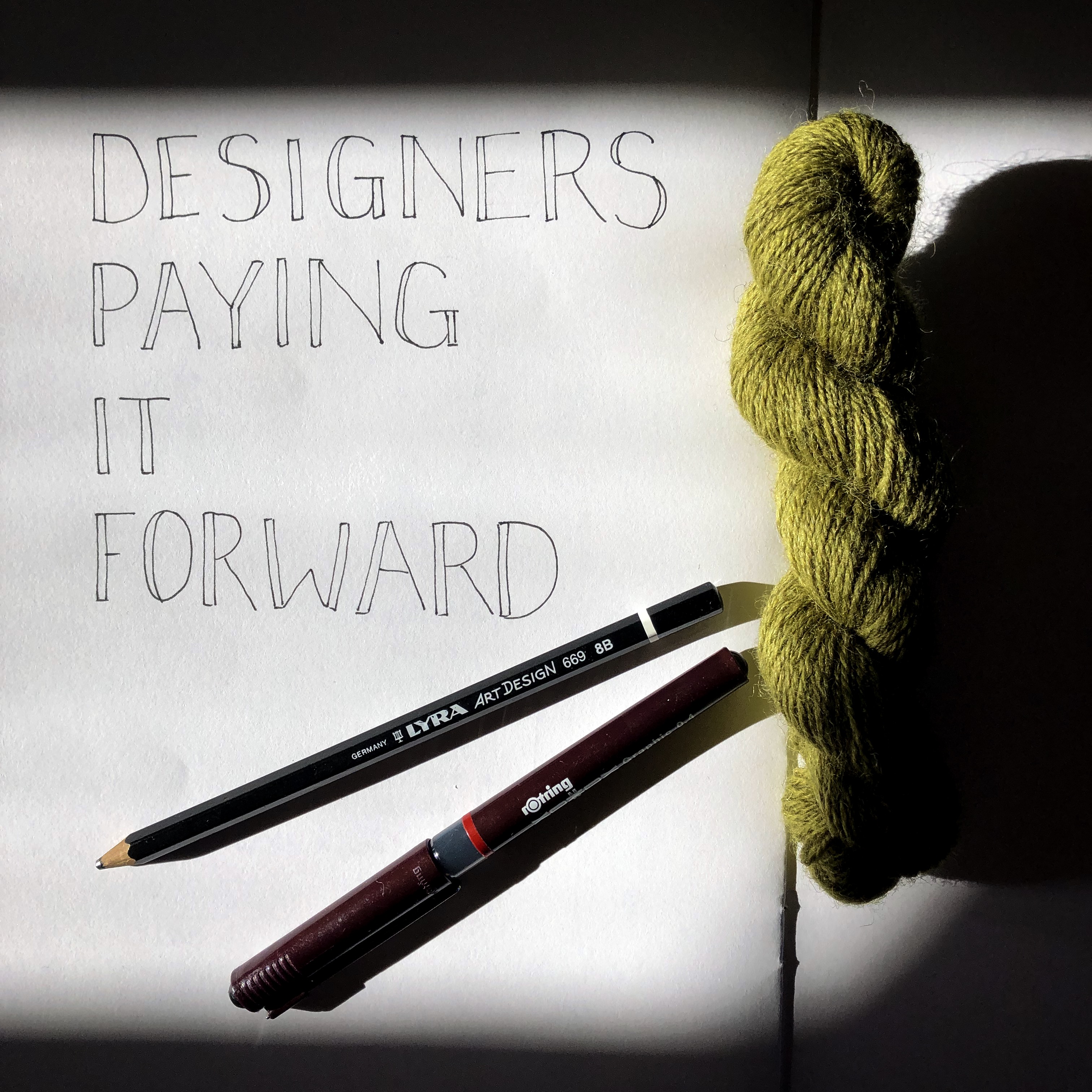 If you want to try designing, but wish you had a sounding board or design buddy to help you get there, maybe we can help? 


We (Emily and Robynn) are long-time internet friends, having first connected via Ravelry and really bonded through motherhood and our separate ventures into design. We have collaborated on various projects, including the 'Lost in the Woods' collection. Between us we make a pretty good team, with complementary strengths and professional skills that we put to good use as self-publishing designers.
In reflecting on the recent conversations around racism and in the knitting world, we tried to focus on how we personally could contribute to greater inclusion. We realised that in starting out as designers, we benefited from a tremendous support network, formed online and at knitting events. We had access to many more advanced designers, tech editors, yarnies and eager knitters who were happy to share their insights and advice, and even to work with us as we grew in confidence and ability. Without this pool of expertise and encouragement, it would all have been so much harder.
It is clear that not everyone has been afforded the same welcome. So we would like to pay it forward, by mentoring an aspiring designer to get their first pattern published. Wonder dyer Aimee has generously offered yarn support for an accessory design (1–3 skeins), and we're ready to help with everything else. What does this offer involve, exactly? Well, that depends on you. Together we will agree on what support would be most useful to you, but it could include sharing ideas on how to write a proposal for yarn support or a magazine submission; developing a style sheet and pattern template; advice on grading and pattern writing; drawing charts and schematics; tech editing, romance writing and providing some pointers on photography and photo editing. (Admittedly photography is the area where we have the least expertise, but we have still picked up a fair bit of knowledge along the way!)
What can we offer?
Robynn has an amazing eye for style and detail, as well as being a super hot editor who can lay out a book, set up a mean template or write the perfect romance copy from a list of words. Emily has a brain that thinks in numbers and concepts, can engineer a solution to just about any problem and loves nothing better than an over-complicated spreadsheet to get her teeth into.
We know you have the skills and the talent. But we also know we would have struggled without the network that came easily to us, and which we now realise is not so readily available to everyone. We're hoping to open the doors just a bit wider.
How do you apply?
Please email us at flutterbyknits@gmail.com, by 24th March 2019, with a short answer to the following questions:
What would you like to design?
What is holding you back from self-publishing a pattern?
What three things would you most like us to help you with?
Where can we find you online? Please link to somewhere that shows your knitting projects – such as Instagram, Ravelry or a blog.
While we are not setting hard and fast entry requirements, this opportunity is specifically meant to encourage greater diversity and the participation of BIPOC in the design world. Please reflect on this before you apply. You'll find our answers to some of the most common questions here.
Why the formality?
We think that creating a proper structure, discussing what is needed at each step of the design process and where we can best add value, should mean more productive collaboration than a vague offer to answer questions. On top of that, we don't want to let anyone down by taking on more than we can handle. Both of us have jobs and kids, as well as our own design projects, and we know how quickly commitments can turn to overload. So we will start out working with just one person, and defining exactly how we will help at the start of the process.
We're not trying to make this an exclusive program, and we certainly hope to engage with the people we'll get to know through this project beyond these boundaries. (Yes, 'people' – we also hope to repeat the exercise in the future with more designers). Setting some limits just mens we can be sure we'll make good on our promises.